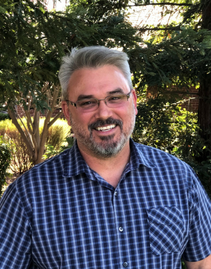 Michael Molino, M.S., CF-SLP
Michael is a licensed Speech-Language Pathologist. He received his Master's degree in Speech Language Pathology from California State University, Sacramento (CSUS). Prior to earning his Bachelor's degree in 2014 from CSUS, he served in the US Navy for more than 20 Years.
Michael's clinical skills encompass many facets of speech and language disorders, such as:  expressive and receptive language delay, articulation, apraxia, phonological processing, accent modification, Autism, Down syndrome, Cerebral Palsy, Social Pragmatics, Stuttering, and Cluttering. He also has experience with aphasia, dysarthria, dysphagia, mTBI, and neurogenic disorders. Michael holds a letter of clinical competence for Fiberoptic Endoscopic Evaluation of Swallowing and is licensed as a Schools Audiometrist.
Michael has personal experience with communication disorders and received speech therapy services for many years as a child/adolescent for stuttering. His passion has always been to provide clients with skills that will help them communicate effectively in academic, work and social settings.
Michael has received specialized training in Stuttering disorders from Eastern Virginia Medical School Fluency Shaping Program. He has been an advocate and mentor for individuals who stutter for more than 20 years. He is the Southwest Regional Chapter Coordinator and Sacramento Chapter Leader for the National Stuttering Association. He has attended numerous stuttering conferences and workshops. Michael is currently an online host for Stutter Social, which connects people who stutter from around the world. Discussions often revolve around stuttering-related issues, but sometimes they just chat about their day or a good movie. He is highly respected in our field and we are honored to have him join Granite Bay Speech.