We Help Individuals Improve Skills in the Following Areas:
In-Office Therapy and Teletherapy Services
We have specially designed rooms with state of the art technology. We also have online services and availability to better serve you.
Developmental Milestone Checklists
Our checklists can serve as a free guide to test skills and evaluate whether or not assistance may be needed. After you complete the brief checklist, you will know if your child is following typical developmental patterns.
GBS Financial Information
We are very happy you've taken the first steps and inquired about services at Granite…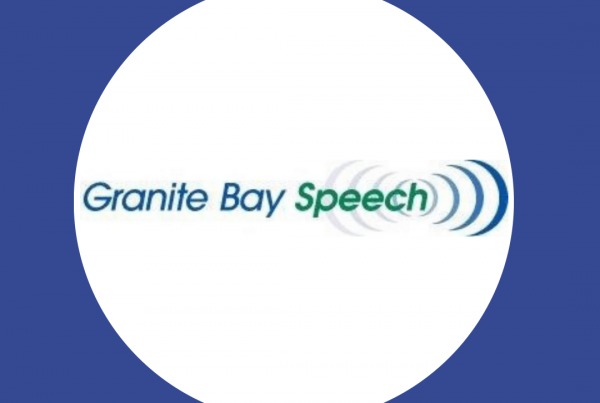 Blogs at Granite Bay Speech!
Get Ready! Our blog posts will be increasing in frequency and content! Be sure to…
"My teenage son has been seen at Granite Bay Speech for over a year now and we LOVE it so much. Traveling the special ed road in the school system is not easy but his therapist is a rare gem that actually cares about, does research for and spends time planning for her time with my son. She has the biggest heart and cares the most about how to bond with your specific child. I cannot say enough wonderful things about her. She truly has an inner glow and such a gift for connecting to teenagers. So impressed, you cannot go wrong with Granite Bay Speech."

Christie P.
"I highly recommend Nancy Barcal at Granite Bay Speech Clinic, located in Roseville California. I attend monthly meetings held by the National Stuttering Association, (NSA) where I first met and often see Nancy. She is very helpful and uplifting and I often leave sessions feeling better than I did when I arrived. It's easy to tell that Nancy has a passion for her work and I recommend her to anybody who is looking to improve their speech fluency."

Mike Pieri. Age 20, Folsom CA.
"I take a 3 hour drive to see Nancy Barcal because after meeting with many Speech Therapists during my lifetime there is no one more qualified in the subject of stuttering than Nancy Barcal. I would drive 20 hours to see Nancy that's how certain I am that she is the person who will help me the best. Nancy understands stuttering more than anyone I have ever met. I am very lucky to have met her. She treats me like a person not just a client and that means a lot to me. Her passion and compassion is evident in the way she works with you. Knowing I have Nancy at my side is all the confidence I need to know that if and when my fluency starts to deteriorate she is the just the person to get me back on track so that I can use the techniques necessary to be more in control of my speech."

Noel Ahedo
"My son has autism and we needed him to receive additional Speech Therapy services beyond what we could receive through the county and the school district. He started seeing Kim (age 2) with no expressive speech at all, but 12 months later he is now speaking. He is still 6-9 months behind his normal peer group, but he is continuing to make progress weekly. He is still reluctant to speak at times, but his receptive language skills have increased greatly. Kim helped increase his comprehension skills.

We are very grateful to Kim and Granite Bay Speech for helping our son."

Bryan and Jennifer R
"My son has been receiving speech in the school system for 2 years with little to no progress. They were ready to graduate him and stop speech services because they didn't understand the problem. We have been seeing Nancy for the last 9 months and I am happy to say that she figured out what the true underlying issue is, and has been making great progress. He will officially graduate in a few months, thanks to her! She is a job to work with and always has new and exciting exercises for my son. The office staff is easy and wonderful as well. We couldn't be happier!"

Jordan C.
Support For Parents
Is your child behind in a skill or struggling to achieve his or her potential? Do they need targeted therapy to alleviate a trouble spot? At Granite Bay Speech (GBS), we offer Free Developmental Age Checklists so you can test your child's skills in the comfort of your own home. We offer free, no obligation phone consultations to answer your questions and provide research you can trust. We help you navigate school district services as well as insurance coverage.
Support For Clients
Are you falling behind in academics? Are you failing to achieve your professional potential? We use state of the art technology to help you obtain your articulation, fluency, language or social goals. You deserve the best and Granite Bay Speech is here to help you accomplish your goals quickly and easily!
Support For Educators
As an educator, you know that only the bottom 7th percentile of students qualify for school district special education resources. Often, a child needs help but their scores are not low enough to qualify for free school services. As an educator, where do you go for help? We work with you, the district, and parents to provide appropriate services that may not be available in a school district setting.
Click Here to Learn More