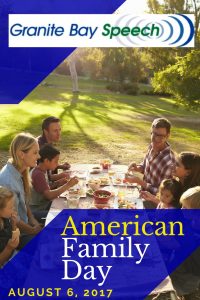 The first Sunday in August was established in 1977 as American Family Day. This day was created as a day for encouraging families to spend time with one another.  We have compiled a list of fun activities for you and your family to enjoy together!
Enjoy some free activities outdoors with a backyard BBQ and campout, find a shady tree and have a picnic in the park, or adventure around Folsom Lake by bike or boat.
Hoping to beat the heat? Try some fun indoor activities! Cook a meal together as a family, go bowling, watch a movie, try ice skating, laser tag, or Sky High!
Below is a list of other activities going on in Roseville for the month of August
August 10– Food Truck Mania 5-9pm
August 18– Friday Flicks (Star Wars – Rogue One) 8pm
August 19– Food Truck Cinema (Toy Story) 9:30pm
August 22– Sensory Storytime 11-11:30am
More details can be found at: http://www.roseville.ca.us/events/
Post on social media using #AmericanFamilyDay to encourage others to join in the fun! Tag us @GraniteBaySpeech to let us know what you are up to!