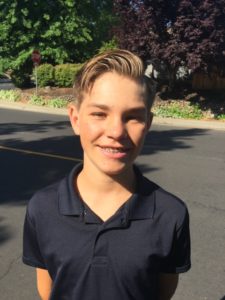 A letter to my teacher… from a student who stutters.
Elijah was once very shy about his stuttering. Since attending therapy at Granite Bay Speech, he has become more confident, outgoing and able to voice his thoughts and feelings. Elijah understands that he is not defined by his stutter, and wrote this letter to his teachers. He allowed us to share this letter with you and hopes it may inspire you or someone you know. Feel free to share!
Dear Teachers,
My name is Elijah I'm in seventh grade and I'm 12 years old. I'll be 13 in September. I have played a lot of sports, including, soccer, lacrosse basketball and water polo. I decided to focus on the lacross. I might add water polo when I am in high school.
Another interesting fact about me is that I stutter. I have stuttered since I was eight years old. When it started I would get stuck on my words and try and push the sound out and that only made it worse. I went to speech classes and I am able to talk without getting stuck often. If you hear me stutter you don't have to help me. I need you to wait until I'm finished talking and don't try to finish my words. When anyone asks me about my stuttering I tell them, "it's not a big deal, I know what I want to say so please be polite and don't interrupt me."
If someone gets teased about their stuttering, I would tell them to just keep talking and use your speech techniques from your speech therapist. I try to stop pushing on my sounds and then use a little stretch on my vowel to ease into speech. Some days are tough speech days and I stutter more, especially if I'm tired or excited. I try to pause more often so I speak smoother and don't lose my breath. I've learned to be patient and compassionate because I've struggled with stuttering. I think that's why I am patient with older people. I'm proud of who I am!