Stuttering Expert Available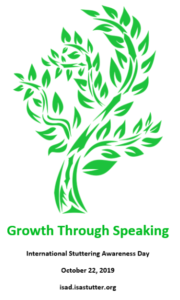 If you are interested in learning more about stuttering, you can learn from one of the best! Nancy Barcal has worked with stuttering and cluttering for nearly 40 years. Due to her high level of expertise, Nancy has been invited to answer questions about stuttering during the worldwide International Stuttering Awareness Day (ISAD) organization's conference.
The conference runs from October 1 until October 22, International Stuttering Awareness Day.
To participate, you must be logged in to ask a question. After you log in, select 'New'; 'Post' from the top menu and enter the title and details. Be sure to set the category to '2019 Talk to a Professional' on the right side of the page or your question will not display on this page.
Please join us as we participate in the 22nd Annual Online Conference for International Stuttering Awareness Day!