Fall FUNtivities! 
Thanksgiving is just around the corner (goodness where did the time go?). Here are a few fall-themed activities you can do with your family while staying safe and socially distanced.
Leaf Artwork 
For kids who need a screen time break, encourage them to take a walk outside with you and admire the newly changing foliage. Collect a handful of leaves of varying sizes, shapes, and colors. Place the leaves under a blank sheet of paper and color over them with fall-colored crayons to make a leaf rubbing. For an added bonus, you can have your child describe the different colors they see and the texture of each leaf. It's unbeLEAFable how simple and easy this activity is!
Play With Your Food
Have you ever told your child, "Don't play with your food!"? For this activity, it's highly encouraged! To go along with a Thanksgiving theme, have your child piece together different food items to create their very own turkey masterpiece. Provide a selection of snacks for them to play with and sample. Options can be anything from baby carrots, to bell pepper slices, to pretzels…the possibilities are endless. Feel free to get creative with it and most importantly, have fun!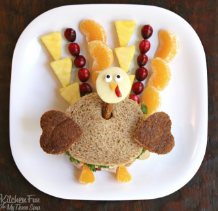 Apeeling Apples 
Apples are the fall fruit and there is a wide variety of them choose from at your local store or farmer's market. Have your child sample different apple slices and describe their taste and texture. Are they sour, sweet, juicy, crunchy, etc. Drizzle in caramel sauce for an extra sweet treat!
Apple Orchard
Visit an apple orchard with the whole family. There are many great Orchards in Apple Hill if you are local to the Sacramento Region. Plenty of room to roam while being safe and socially distanced from other visitors.