SmartPalate System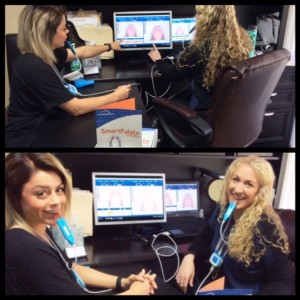 At Granite Bay Speech, we provide our clients with the most advanced technology in speech therapy!
The SmartPalate System shows the students exactly where their tongue is supposed to touch their palate when producing different speech sounds. This biofeedback system consists of a customized acrylic mouthpiece with sensors that capture tongue-to-palate contact (the SmartPalate) and a software program.  Immediate feedback is provided to all users matching their tongue placement to the articulation patterns for their target sounds. These "tongue targets" allow speech therapy students to quickly produce sounds they have previously struggled with by simply positioning their tongue to light up the corresponding contact points for that sound. The SmartPalate assists the student to repeat sounds accurately time and time again with instant feedback that empowers the students to make even the most fine-tune adjustments on their own.
The SmartPalate quickly corrects articulation errors where the tongue makes contact with the roof of the mouth. These sounds include the most commonly treated sounds:  /r, s, l, sh, ch, k/ and among others.
The SmartPalate technology has been successfully used with many populations including individuals with oral motor disorders, phonological disorders, cleft palate, Down syndrome, Apraxia, Dysarthria, and speech disorders caused by stroke or traumatic brain injuries.
Contact us for more information at 916.797.3307 or info@granitebayspeech.com.
Research: http://completespeech.com/smartpalate/epg-research