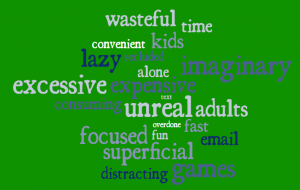 We are using electronic forms of communication more than ever, but do mediums such as texting, emailing and posting on social media truly count as "communicating?" Technology has changed our lives in many ways. While it has helped us accomplish great things, it has also changed how we communicate with others. Experts in the field are concerned about the current communication trend as the overuse of popular technology may lead to diminished speech, language and hearing abilities.
Statistics
68% of 2 year olds use tablets at home
Every 30 mins of daily screen use increased the risk of expressive speech delay in children ages 6 months to 2 years by almost 50%
44% of kids under 6 would rather play a game on a technology device than read a book or be read to
48 minutes is the average amount of time spent on a mobile device per day by children under 8
78% of teens check their devices at least hourly
4 out of 5 smartphone users check their phones within 15 minutes of waking up
While the statistics are alarming, there are ways we can help combat the issue.
Tips For Managing Tech-Time
Find at least one or two opportunities during the day to create tech-free times
Plan activities to keep children entertained rather than relying on technology
While educational apps do teach new skills, remember that children learn best through talking, conversing and reading
Social interaction is important so try to make tech use a group activity, such as while playing with family members or an online game with others
If young kids need their own tech devices for certain reasons, consider using one with features that provide extra security and limit content
Set screen time limits and keep track of the usage yourself or use devices that turn off automatically
Be consistent in implementing the rules you set for tech usage
Be sure to model the safe tech habits you want your kids to take after
Learn signs of communication disorders and ask for help from a Speech Language Pathologist if you notice something that may spark any concerns or questions.
Do you have any questions or concerns? Please contact us at 916-797-3307 or visit our website at www.granitebayspeech.com 
Sources:
Healthy Communication & Popular Technology Initiative
National Association for Hearing and Speech Action
ASHA: The American Speech-Language-Hearing Association (ASHA) is the national professional, scientific, and credentialing association for 198,000 members and affiliates who are audiologists; speech-language pathologists; speech, language, and hearing scientists; audiology and speech-language pathology support personnel; and students.