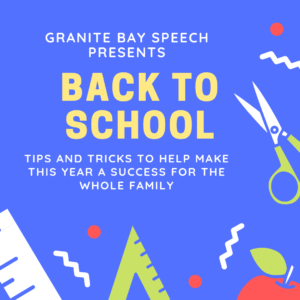 Have you noticed all of the "Back to School" gear in stores already? Going back to school after a long summer break can be stressful for everyone! New teachers, new routines, new struggles… don't worry! Granite Bay Speech is here to help you say "GOODBYE" to those lazy summer days, and "HELLO" to juggling homework, music lessons, sports, and social lives. We want to help you create a smooth transition to school with our tips and resources.
Establish a consistent location at home for backpacks and homework.
Make sure backpacks are filled with essentials and leave it in an obvious place the night before school. Develop a routine for after school activities and homework. Create written checklists to avoid miscommunication. Post daily or weekly schedules using a different color for each child. Use write-on wipe-off boards for items that change frequently.
Agree on a homework schedule.
Establish a set time frame for children to do their homework. Use a timer to set expectations.  Allow your child to sit in a chair, beanbag, or on their bed, as long as they are able to work successfully! Children are individuals and need individual accommodations. Some children work best sitting in their beanbag while listening to music. Some children need to sit at a desk with silence. Children need to learn how they learn best and by providing choices we encourage them to respect their individual needs. Children also need physical breaks to release energy and get the blood flowing! Set a timer and encourage your child to stretch, run or do a crazy dance every 10-20 minutes to maintain maximum attention. Use more frequent breaks if your child is tired. Adjust the time based on age and personality.
Eat protein rather than carbs/sugar.
Avoid the sugar rush and help your child pay attention all morning by providing protein for breakfast. Add proteins to your child's lunches and snacks; protein provides consistent energy versus carbohydrate and sugar snacks. Here are a few of our favorite snack ideas: Trail mix, slices of turkey and cheese rolled up, beef jerky or carrots with hummus.
Support learning and reduce stress with visual aids and free help from Granite Bay Speech
Use reference cards or reminders to follow the step by step process for completing a task, ("first do __then do__").  Use Diagrams, Tables and Checklists to break complex tasks into less stressful activities.
Do you need a few tips or want to chat about developmental concerns? Do you need help obtaining therapy services from your school or medical health plan? Call us. We offer free phone consultations for your educational and medical concerns. Individual and group therapy is available at convenient hours.
Visit our website www.granitebayspeech.com to access tons of free handouts and visual supports! We have spent hundreds of hours designing our website with you in mind! Why spend time going from site to site when we have it all organized for you?
Have a wonderful school year and know we are always just a phone call away to chat with you!