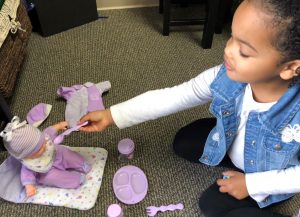 As adults, we often reference the occurrence of pretend play as just that… play! But, we may fail to recognize the critical role that play has in the cognitive, social-emotional, and motor development of our children. Let's take a closer look at pretend play's benefits and the positive effect it has on our little ones!
Imagination utilized in play activities requires strong problem-solving skills – higher level, cognitive thinking is necessary to not only imagine, but bring characters, settings, and plots to life! When children are setting the scene for their pretend play scenarios, they pull information from their experiences, which allows for the creation of memories and improves their memory-recall abilities.
Research shows that pretend play promotes the development of social-emotional skills, where children are actively experimenting with the social and emotional roles that they witness in everyday life. It provides opportunities for children to make sense of the situations they observe and to 'test out' new ones that may be confusing, scary, or anxiety-provoking.  Through imaginative play, dolls or figurines can become a 'version' of a child, providing a safe way for them to express new ideas, feelings, and emotions.
Our children incorporate language in play and feel the power of their words. They learn to read social cues, take turns, initiate and engage in reciprocal conversation, control impulsivity, and recognize emotions. Through the development of these abilities, they are also increasing their 'theory of mind' – the capacity to take another's perspective and understand the feelings of others to feel empathetic.
Amazingly enough, motor skills are also enhanced through pretend play. Gross motor skills are required for actions such as, making animal figurines jump or airplanes fly through the sky, and fine motor skills are needed for activities such as dressing dolls, carefully placing items in dollhouses or building, or piecing together tracks for a train. The concepts of grouping and categorizing are also enhanced, which can be demonstrated through scenarios of grouping food items together to create a meal or a grocery store.
Granite Bay Speech believes in the power of pretend play and we encourage its' utilization for all children. Contact our office for more information and tips for expanding your child's imagination.
"Logic will get you from A to Z; imagination will get you everywhere." -Albert Einstein
Call our office at: 916-797-3307